California Canonesses Publish New Life of Norbert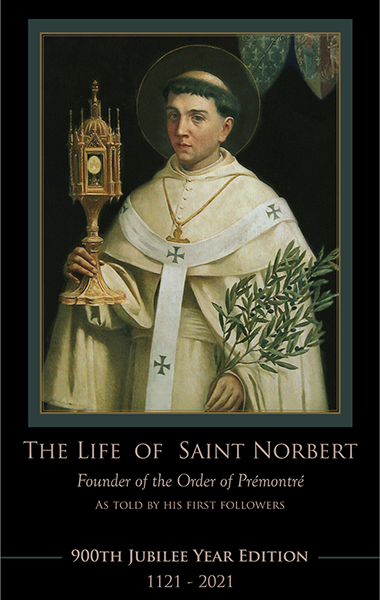 A new edition of a 12th-century work on the life of Norbert of Xanten appears this month.

The keepsake edition of "The Life of Saint Norbert" is published by the community of Norbertine canonesses in Tehachapi, Calif. It offers an English translation of Vita B, one of two contemporary lives of Norbert written by his first followers.

Selected engravings of important events in Norbert's life by Theodorus and Cornelius Galle are featured as illustrations. Several prayers and devotions to St. Norbert are also included in the new edition, produced as part of celebrations marking the 900th Jubilee of the Norbertine order.

This "Life of Saint Norbert," the first stand-alone hardcover edition of the Vita, is available for purchase at the online monastery gift shop of The Norbertine Canonesses of the Bethlehem Priory of St. Joseph, and at the college bookstore. The canonesses say "the volume makes a fitting gift for Christians striving to live the Gospel message in our modern world."
In promoting the edition, the publishers paint a compelling picture of Norbert himself: "Wealthy, handsome, educated, affable, and loved by all, Norbert of Xanten was a man of the world. He denied himself nothing, and left nothing that he desired untried. Following his dramatic conversion at the age of about 35, he became a faith-filled preacher, inspiring countless men and women to embrace the monastic life. He courageously engaged the challenges of his time: corruption, petty wars, oppression of the Church, heresies, and more. The strikingly similar challenges facing the Church and world today suggest that St. Norbert is a intercessor uniquely suited for our times.
"Meet this exemplary saint who spoke then – and still speaks to every people, up to our times – of the needed renewal of Christian life."

A productive time for Norbertine scholars
Vita B is a critical source for students of Norbert and has been drawn upon by many scholars. Along with much other material, it helped inspire the new biography of Norbert by President Emeritus Tom Kunkel, Man on Fire: the Life & Spirit of Norbert of Xanten (2018). 
In another new contribution to Norbertine studies, an important translation by Bill Hyland, a former director of the CNS now at the University of St. Andrews in Scotland, appears this spring. Two Sixteenth-Century Premonstratensian Treatises on Religious Life (2021) is published in the Praemonstratensian Texts & Studies series by Liturgical Press. This volume presents the first English translation of two Latin texts by Jacob Panhausen, O.Praem.: "A Loving Exhortation to Prelates and Those in Their Charge" and "Treatise on Monastic Life and Religious Vows." Panhausen (1540–82) served as abbot of Steinfeld Abbey in Germany throughout the era of the Council of Trent and its aftermath. He died the same year that Norbert of Xanten was officially canonized.

Jan. 28, 2021