According to the Research
Two SNC undergrads are acquiring an understanding of the research landscape that would be the envy of many already well into their grad school careers

They're still early in their undergraduate careers, but Luke Johnson '21 and Ruthie Tucker '22 are setting about creating tomorrow's knowledge through original research – learning research methodology as they go, probing data, asking questions, collecting and collating and analyzing results, and, sometimes, reaching new conclusions about old quandaries.

Their learning environments are quite different, but both Tucker and Johnson are having extraordinary experiences – and making hay with the rich opportunities they've embraced. For Tucker, it's been a question of discovering just how many legislative hurdles a researcher needs to surmount before working with human subjects. For Johnson, it's nothing less than acceptance as one of a professional team in a key campus department.

They're cleaning datasets, learning how to discern findings, encountering stumbling blocks and figuring out how to traverse them, working with experienced mentors, and suggesting new projects of their own. Blending a natural, intense curiosity with their enviable research education on and off campus, these young undergrads are making a difference at SNC today, while creating a strong baseline for their futures.

Luke Johnson '21
Earning his place among the professionals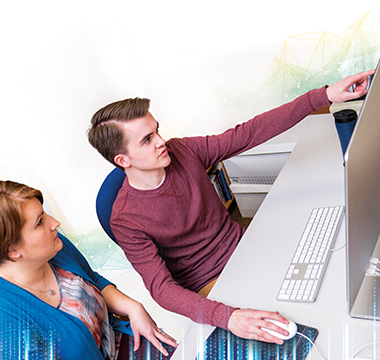 Luke Johnson has two research assistant roles: One comes with his on-campus job in the office of institutional effectiveness (OIE) and the other he's pursuing in the psychology lab as part of his psych major. The impetus for the first is campus-wide, the second deeply personal.

Johnson sees each as a means to help others, even when dealing with raw data. "It can be easy to get lost in that sometimes," he says, "… but because my coursework is in psychology, I'm seeing a lot of that other side – like what are people like, rather than seeing them as numbers."

Johnson is a valued member of the OIE staff team that serves all areas of SNC, keeping the college and its accreditors informed and accountable. His data work is displayed in the SNC FactBook's digital publication (at snc.edu/oie) and in specialized work requested across campus.

If you didn't know the work was by a college junior, you'd think it was the output of a veteran researcher.

"We would not be able to accomplish the number of projects that we are able to do without his help," says Carolyn Uhl, OIE research analyst on the office's permanent professional team.

Johnson didn't arrive at SNC as a fully formed researcher. But he's finding it a great place to develop his research skills. And he's learning what it takes to undertake, share and take ownership of research in a professional context. He says, "I was able to start this position beginning of my sophomore year. It's a mixture of a job and getting to do a lot of research and learn a lot of the techniques that, similarly, for the job aspect of this, are directly applicable to research. A lot of the things I'm learning are in SPSS [Statistical Packages for Social Sciences]." He's also mastering Tableau, a software platform that creates visualizations of data projects.

"I can imagine that we get a lot of those opportunities maybe a little earlier at St. Norbert just because it is a smaller environment and you have such a close relationship [with faculty]," Johnson says.

Johnson's OIE work serves the full campus, "whether that's a faculty member that's doing some program review for one of their courses, or an outsider or parent looking at St. Norbert, trying to learn something." It's useful to him, too. His OIE role is a job, yes, Johnson says, but it's one that marches well with his experiences in the classroom. For instance, he took a stats course early in his undergrad career. When he went back to take an advanced stats course, he found that because of his work in OIE he was already ahead of the curve.

Johnson is undertaking academic research within his major, too. With Michelle Schoenleber (Psychology) as mentor, Johnson will look into the connection between anxiety and learning – a subject he's experienced first-hand. The pair have assembled materials to submit the study for approval by the Institutional Review Board.

His growth as a researcher at SNC has been increasingly important for him: "I was very happy, realizing as I was here that, 'Wow, I can really get involved in psychology research, the more statistical side of things through this job and other things I'm involved in a lot right now, which I really like."
In addition to his research roles, Johnson also serves as president of Wishmakers on Campus, which raises funds for the Make-A-Wish Foundation; writes for the Honors Pulse, an honors program newsletter; serves as a torch leader for first-year honors students; and is vice president of the Psychology Club. His post-SNC path will include pursuit of a Ph.D. in psychology.

Ruthie Tucker '22
Before you can start, you have to get started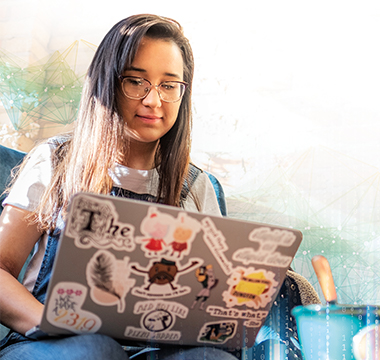 Learning to be a researcher isn't easy, says Ruthie Tucker.

"I don't think I'm excellent at it," Tucker says, "but I think I'm improving how to do it. That's what I think the research fellowship is, for us to learn how to do research. And that's what the SURF [Summer Undergraduate Research Fellowship] program is … learning what research entails."

Tucker's work as a research fellow with SNC's SURF program – operating with a student-and-mentor model – will study the relationship between ethnicity and education, a matter close to her. She began her work in summer 2019 and hopes to get approval to continue this summer, with mentorship from Alexa Trumpy (Sociology).

Among multiple lessons in research protocol that Tucker's learned, the process for Institutional Review Board approval is a most important one.

"You have to get approved to work with human subjects before you even do the research," Tucker says. "I wanted to research high school students, and they are typically under 18 years old. I wanted to work with schools, and that's a whole other thing. And then I wanted to work with minors. And I needed to report and then interview them. It was all these different documents and hoops I had to jump through."

As a member of the Menominee Nation, Tucker's experience in schools with mostly white populations raised questions for her about students in that setting.

"Does that affect their education because they're surrounded by peers of the race or peers that aren't of the race?" she says. "I wanted to know if that affects education, because it's a personal question for me."

After two weeks of considering options, she found her project's focus. "SURF allowed me time to develop a question, how I wanted to go about the research process and just learn about the research process in the first place," she says. "I just sat down and did a lot of thinking about it, like by the river over there. I felt like I was just thinking about my experience. That's when I realized I always had that question [about the peer population surrounding Native students] and that I could research that sort of thing just by talking to the students."

At the end of the eight-week program, Tucker was scheduled to present her findings. Without completed research yet, she was nonetheless able to educate many in her audience by chronicling the necessary legislative and other hurdles that have to be surmounted to reach even the first steps toward what non-academics assume research looks like. "I just presented what I did for eight weeks, and what I was working on that for the last part," she says. She held her audience.
Tucker, an elementary education major and double minor in early childhood and art, founded the Council for Indigenous People on campus in her first year at SNC. She hopes her research, as it develops, will help future Native students. She has a second research fellowship with SNC's Full-Spectrum Learning initiative, on a team whose work is to be featured in @St. Norbert.

"I can't wait until I can sit down with students, collect what they tell me, and present it to the school board or a tribal government," she says.

March 17, 2020