Balancing Act
Everyone wants to be healthy. But what, exactly, does good health look like? It's about being in good physical condition, sure. And having a positive frame of mind. But there's so much more to good health than that.

Living a healthy, balanced life means being intellectually stimulated and spiritually nourished. It encompasses stable finances, working at a job you love, and having friends and family who support and engage you. It's living and exploring in a safe, nurturing environment, following your passions and daring to dream – and dream big.

But creating the best life for yourself doesn't necessarily mean these various dimensions of healthy living must be given equal weight. We're all different; one person may need more intellectual stimulation to thrive, while another might crave more spiritual sustenance.
Our Norbertine identity effectively offers a challenge to a healthy, balanced life. Although busy priests and others leading lives of self-emptying service may be among the first to admit that their own lives are far from well-modulated, a rule of life – monastic or secular – that meets the human need for counter-balanced wholeness is upheld by many religious orders.

We tapped members of the St. Norbert family for their insights into health, wellness and what good self-stewardship looks like.

Find a natural equilibrium
Juggle friendships
Maintain a balanced diet for cyber health
Watch for checks and balances
Balance the book(s)
Keep a sense of scale(!)
Seek work-life balance
Reflect on what tips the balance
---

Find a natural equilibrium
Contemplation – deep, reflective thought – is an integral part of the Norbertine tradition. It's also key to emotional health. So a group of staff and faculty are working to incorporate more contemplative practices into the St. Norbert experience.

The group – among them Becky Lahti '00 (Emmaus Center), Bruce Robertson (CAPS), Lisa Burke (CAPS), Laurie MacDiarmid (English), and Chrystal Woller (Health Services) – transformed a room in the Campus Center into a contemplative space (pictured), complete with floor cushions and a water feature. They are using the space to offer the campus community a variety of contemplative practices, from yoga to meditation.

"We want to incorporate contemplation across the board. We'd like it in the classroom, we'd like it in the residence halls," Robertson says. "And then, really, our hope is that with Wellness by Design, it will kind of move across campus."

They're finding students not only receptive to meditative practices, but asking for them. Burke introduced meditation to her Gateway students; on the last day of class, when they were given the opportunity to choose any activity, they asked for time to meditate.

"Practices like meditation have been proven to reduce stress and anxiety and help with focus," Lahti says. "There are so many benefits, and I think people are seeing that more and more and wanting to be a part of it."

Burke recently returned from Cambodia, where she received training as a meditation teacher. She plans to bring what she learned to her students and others interested in incorporating the practices into their own lives. Here, she offers three tips for beginners:
Slow down. "Slowing down your breathing helps take your stress way down."
Tune in to your body. "Focus on the rise and fall of your stomach, feeling your breath. … Relax all your muscles … and enjoy the relaxation."
Take meditation with you. "Meditation doesn't have to be where you just sit in silence. It can be practiced when you're walking. It can be practiced when you're standing in line. … You always have your breath with you."
---

Juggle friendships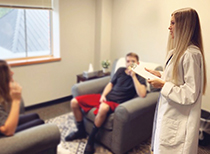 Sierra Peters '19 is a grad student in social psychology at Florida State University. Her research involves the forming and dissolution of romantic relationships. The not-so-rosy news: Marital satisfaction declines over the course of one's marriage, possibly because of over-optimism and naiveté as newlyweds. The good news: You can still have a very happy and fulfilling union by communicating thoughtfully, enjoying novel experiences together and supporting each other's goals.

But whether you're married or single, Peters says developing close relationships is critical to your health and well-being. "And it's not about quantity, but more about quality," she says. So try to foster a few close friendships rather than making a lot of superficial acquaintances. Because as time goes on, you will need people in your life who can support you in overcoming life's various difficulties – people who really know how to make you feel better.

Peters adds that one of our core needs is belonging. So surrounding yourself with people who accept you just the way you are automatically increases your self-esteem.
---

Maintain a balanced diet for cyber health
There are many wonderful assets to the digital era. One of the most obvious is that it allows us to seamlessly communicate with people around the globe. But the era has also ushered in some concerning trends. Kids, who use technology as their primary means of communicating and forming friendships, report feeling addicted to their devices. Research shows students today are less focused at school and have more social challenges. And some studies indicate the more you're on devices, the more you're at risk of depression, sleep deprivation and suicide.

Enter Annie (Gibbons) Gaughan '91, director of business development for Cyber Safety Consulting Inc. The company created curriculum for primary-students and middle-school students to assist kids in learning internet safety and digital citizenship, as well as a comprehensive program for high school students which covers age-relevant topics for each of the four high school years. Staff travel around the nation to help educate students, parents and teachers on these topics.

Gaughan (married to Brian Gaughan '91, incidentally) passes on these top cyber safety tips for families:
Establish healthy digital habits. It's easier to establish good habits than break bad ones. So talk to your kids early on about your rules and expectations regarding their digital devices. And stress how to be a good digital citizen, including the emotional and physical power of the words they use.
Talk about the digital world often. Cyber safety needs to be an ongoing conversation, not a one-and-done discussion. Rather than just dispensing periodic lectures, show an interest in what your child is doing. Ask how Snapchat works and to see what they're snapping. See who and what they're following online and who is following them.
Model good habits. If you don't want your kids texting while driving, then don't text while you drive. If you don't want your kids on the phone during dinner, don't answer your phone during mealtime.
Incorporate tech-free time into every day. Gather the family and play a game. Or head out on a walk or bike ride. Physical activity and being outside is good for everyone. Plus, unplugging lets kids know they don't have to instantly respond to every message or ping they get, which can be a huge stress reliever.
Let them know you can recover from any online mistake. Your children need to know they can come to you and your first instinct will be to protect them and keep them safe. If your child accidentally gives out personal information online to a stranger, you want them to know they can tell you about it – especially if, say, they suddenly begin receiving threatening messages.
---

Watch for checks and balances
Not surprisingly, financial health as part of the whole is top of mind for Jessica Rafeld, who directs the campus office of financial aid. Rafeld says:

The college, with a missional commitment to keeping costs low, offers generous financial aid awards. Some 25 to 30 percent of our students don't borrow. Those who do borrow are well-positioned to pay off those loans. In fact, St. Norbert has one of the lowest default rates out there. SNC's current default rate is 2.2 percent, compared with the national average of 10.1 percent.

In the event that any students fall behind in their loan payments, we reach out to them to make sure they understand the options and don't end up in a position where they're defaulting on their loans. When they get a letter from their school – and it arrives in a handwritten envelope, offering different options to help them – they know there's someone they can turn to. College staff offer a presentation with the Gateway [first-year seminar] program on being a smart consumer of student loans. The presentation goes into budgeting and keeping your expenses down. It also talks about what a reasonable debt is. A reasonable debt for someone planning to go into one professional field might be very different from someone going into another field.
---

Balance the book(s)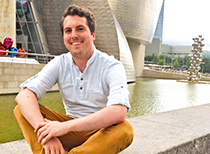 One night, Ian Malcolm '14 had a dream. It was about a magical place where all of the aspirations we once had roamed around, waiting to be rescued. Inspired, the K-5 teacher at West Ridge IB Elementary School in Racine, Wis., penned "The Land of Unlived Dreams," a middle-grade fantasy about two siblings who venture into just such a magical world to restore their father's hopes and dreams, which had vanished after their mother died.

"I feel as though everyone is told at some point in their life that their dream is impossible," says Malcolm. "And, for many people, this is enough to stop them from pursuing it." Case in point: When Malcolm told a colleague he hoped to write a book one day, his boss later approached him and dismissively told Malcolm he'd never be an author. Thanks to those words, it took four years before Malcolm had the courage to try writing a book anyway.

"I hope my book reminds adult readers that they still have time to pursue their own dreams," he says. And he reminds us to be mindful of the words we speak, so we don't inadvertently quash the dreams of others.

"The Land of Unlived Dreams" published May 2019 and is available on Amazon in print, Kindle and audiobook editions. 
---

Keep a sense of scale(!)
Neither Trish (Briick) Byron '82 nor Wendy (Coursolle) Reiss '91 was particularly athletic as a child or while at St. Norbert. But by the time they reached middle age, things had changed.

Byron started running as a younger woman, then got into triathlons in her 40s. She immediately showed talent in the sport, hired a coach and worked her way up from short "super-sprint" distances to full Ironman triathlons. That's swimming 2.4 miles, biking 112 miles and then running a marathon, or 26.2 miles. Eventually, she won the women's 55-59 age group at the Brazil Ironman in 2016, which was the setting for the South American Ironman Championship and which qualified her to race at the Ironman World Championship in Kona, Hawaii. In both 2016 and 2018, Byron ranked in the top 10 percent of female Ironman triathletes worldwide in her age group.

Reiss, a vice president of sales and national accounts for a New Jersey wholesaler, was an active runner after college, competing in road races, trail runs and mud runs. She also participated in triathlons. But when she was nearing 50, a friend persuaded her to climb Tanzania's Mount Kilimanjaro with her. The dormant volcano stretches roughly 19,300 feet skyward and is the world's highest freestanding mountain. And so she did, signing on with a guide who also helped them explore the local culture.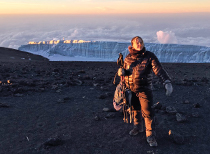 What Reiss wants you to know
Health is everything. It really comes first because without it, you have nothing. So you need to be good to your body.
Wellness is mental as well as physical.
We're always on the move here in the U.S., but that means we miss a lot. And life is short. So remember that things should be done deliberately and slowly, and you should experience things while they're happening. Live and enjoy the moments.
What Byron wants you to know
The more you train, the more you can push your body and do
things you never thought you'd be able to do.
There were years when I didn't do well. But I still continued racing because I always get a good feeling of accomplishment every time I cross the finish line.
Anything is possible. That's the thing. You don't think you can do it, but if you take baby steps toward something, you're going to accomplish it.
Age is just a number. I feel so much younger than what my number is, and I'll be able to do more and enjoy life more because I keep on moving.
---

Seek work-life balance
Much of our lives are spent at work, so pursuing the proper vocation appears essential to a fulfilling and balanced life. But Mike Schmitz '05 says whether or not you've landed that ideal job, you can still find much happiness in the office.

Schmitz is head of The Conover Company, which produces an online career assessment and skill-building system to help employees with career discernment and soft-skill improvement. He says employees can flourish wherever they are if they have strong soft skills, namely good communication skills and strong emotional intelligence.

Emotional intelligence, a hot topic today, is the ability to be aware of, and control, your emotions, plus be empathetic and fair in your interpersonal relationships. Work on your emotional intelligence and communication skills, and you'll be better able to roll with the punches and overcome obstacles.

"Instead of complaining about things at work that cause you pain, look at them as opportunities for growth," Schmitz says. "Flip that script."

Then, you'll thrive no matter what job you're holding. And doors will open to future possibilities.
---

Reflect on what tips the balance
Students grappling with their studies in vocation tapped deep into painful experiences – their own and others' – as they wrote a series of outstanding papers for Paul Wadell (Theology & RS) in last year's senior capstone class.

In "Discerning Vocation and Calling Following Experiences of Trauma," Annika Osell '19 wrote:

How do we have a realistic conversation regarding vocation with people who have been traumatized or have challenging life circumstances? Too often American society disregards these individuals and their needs are forgotten because it is messier and much more complicated to stand alongside them in solidarity. … If vocation is to be meaningful, it is necessary that conversations regarding vocation be extended to people who have been broken, traumatized and wounded.

A traditional understanding of vocation leads one to expect that everything within one's life will fall into place nicely once one "knows" one's call, but that may not be true for people who have endured trauma.

Osell concludes that the past can be drawn upon to inform one's future: "For Christians, our best interest is a relationship with God that will bring us to heaven and will draw us into just and loving relationships while living our lives in the present moment."

Osell's classmate, McKenna Kaminski '19, addressed her own suicide attempt in "A Calling to Mental Health":

It has taken me years to really understand my faith and how to allow it to work through my life in a way that I can truthfully live a life without the thoughts of anxiety and depression. My senior year of high school, I was in an extremely dark place in my life, and after three years of tests I was told I have postural orthostatic tachycardia syndrome. My heart rate from sitting to standing will jump from a 65 to 115. ... I grew up always having anxiety, but the depression was taking over me, and I attempted suicide during my last month of high school. I am beyond thankful to have had another chance at life, but it was a huge process of stepping away from depression and dealing with the repercussions of the choice that I made. ... I felt it was important for me to see my relationship with God in its strongest and best light.

And she concluded: Faith is a reason to live, faith is hope, and God is enduring love. Our callings go far beyond a job, they bring us to relationships and abundant life. Mental health is a calling we should be showing self-care for, showing compassion, and reaching for hope not only amongst ourselves but others.

Read the complete text of both papers.


March 17, 2020