$("#navigation").navobile({
  cta: "#show-navobile",
  changeDOM: true
})
      
Mobile Menu Icon

2013 Alma Mater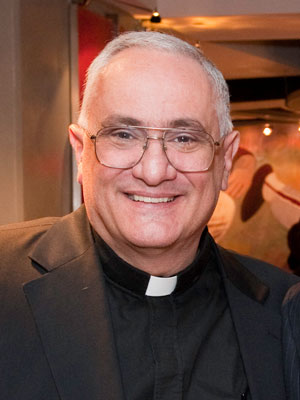 The Rev. Domenic A. Rossi, O.Praem. '70
View acceptance speech
When Father Domenic Rossi, O.Praem., founded Bethesda Project in Philadelphia in 1979, he did so in response to the message of the prophet Isaiah, to "share your bread with the hungry, and shelter the oppressed and the homeless."
His organization began modestly, renting a former rooming house in the city to provide shelter for a small group of homeless women. The goal then, as now, was to "provide family to those who have none." 
Today, Father Domenic has a large family indeed: Bethesda Project currently serves thousands of homeless men and women each year at sites throughout Philadelphia, coordinates hundreds of volunteers (including many St. Norbert students through the TRIPS program) and provides living-wage jobs to more than 100 people.
Father Domenic steered Bethesda Project through its first decade, as the organization purchased and renovated a half-dozen permanent facilities and steadily increased its capacity to provide aid. 
In 1991, he was called by the Norbertine order to Albuquerque, N.M., where he ministered to a large Hispanic parish. He began a major outreach to the large immigrant population there. In 1997, he became pastor of St. Norbert Parish in Paoli, Pa., where he dramatically increased membership, forming a vibrant community of worshipers who embraced and supported the work of Bethesda Project.
In 2010, Father Domenic was asked by Bethesda Project to return to the organization he had left 20 years before to serve as its executive director, a position he graciously accepted.
And so today, Father Domenic again leads one of the most robust programs in the nation dedicated to helping the urban poor and homeless. To these men and women at the margins of society, homeless and alone, Father Domenic and his organization extend not just the hand of friendship, but the embrace of family.
For a lifetime of service to those in need, St. Norbert College proudly presents the Rev. Domenic A. Rossi, O.Praem., '70 with its Alma Mater Award.