$("#navigation").navobile({
  cta: "#show-navobile",
  changeDOM: true
})
      
Mobile Menu Icon

2015 Distinguished Service to the College Award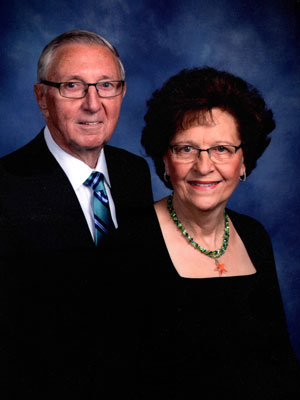 Paul O. and Carol H. Gehl
When young men and women from Hilbert, Wis., have the good fortune to attend St. Norbert College, it is often due to the generosity of Paul and Carol Gehl. And if they have the further good fortune to study the sciences here, they do so in a remarkable new facility built for that purpose ­– also due in large measure to the Gehls' philanthropy. 
Carol and Paul have been providing scholarships at St. Norbert and other colleges to students from Hilbert and the surrounding area for many years. To be in the position to do so did not come easily: The Gehls come from modest circumstances, and only decades of determination and hard work have brought them to a place where they can be so generous with their time, talent and treasure. Paul's career – first as partner of Lunda Construction and later as an investor in dozens of companies – relied on the steady support of Carol and daughter Jane, in what can best be described as a family success story.
Beyond the scholarships they offer our students, Carol and Paul have played critical roles in nearly all of the college's major initiatives over the past 30 years, reflecting an abiding love for an institution at which Paul has served as trustee for a quarter century.
Their support for the college reached its apex recently when, along with Jim and Miriam Mulva, they provided the gifts that would fund the creation of our new science center. Dedicated this year, the Gehl-Mulva Science Center has already provided glimpses of its long-term impact. It is home to the Wisconsin Medical College's Green Bay campus, a partnership with important ramifications not just for St. Norbert College but for the entire region. And it is already serving as a beacon to prospective students: Notable in the college's record enrollment numbers is a sharp increase in applications from students interested in the sciences.
Paul and Carol Gehl are champions not just of St. Norbert College, but of their hometown: They have been a driving force behind the renovation of Hilbert's historic buildings and the continued good health of its business community.
The Gehls' philanthropic works are deeply rooted in faith. They are devout Catholics and benefactors of the Green Bay Diocese. As one who knows the Gehls well so eloquently noted: "The Gehl family lives their faith out loud. Their faith in God, in their family, and in others around them brings much hope and joy to their lives. And it is because of that faith, and because of that hope and joy, that they choose to bless so many of us with the gift of their love."
St. Norbert College in particular has been richly blessed, and we are honored to present Carol and Paul Gehl the Distinguished Service to the SNC Community Award.