$("#navigation").navobile({
  cta: "#show-navobile",
  changeDOM: true
})
      
Mobile Menu Icon

2018 Young Alumni Award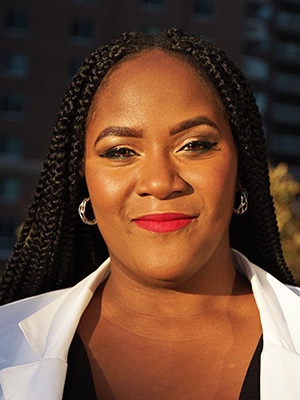 Dominique M. Carter '09
Throughout her academic career, first as an undergraduate chemistry major, and later as a doctoral candidate at the Medical College of Wisconsin, Dominique Carter had her eye not just on the mastery of her chosen disciplines, but on a greater goal: to use her education to further improve the quality of life globally.

At MCW, Dominique earned her Ph.D., receiving cross-training in microbiology, immunology, molecular genetics, biotechnology and bio-engineering. After graduation, she served as a medical affairs research fellow for Exact Sciences Corp. in Madison, dedicated to prevention and early detection of cancer. During that time, she researched patient compliance and adherence for colorectal screening as part of the National Colorectal Cancer Roundtable.

Over the course of her scientific training, Dominique saw the importance of improving access to quality science education and literacy in under-served communities. Today, she combines her love for science engagement, policy and advocacy as an American Association for the Advancement of Science (AAAS) Science and Technology Policy Fellow at the National Science Foundation, leveraging her expertise to catalyze global partnerships in science and innovation in Europe and Africa.

In 2017, Dominique was selected to be 1 of 50 Global Innovation Fellows by the US Department of State for the inaugural U.S.-China Youth Forum on Entrepreneurship, Innovation and Economic Opportunities in Shenzhen, China. She is also serving as the American Society for Microbiology (ASM) 2018 Young Ambassador of Science for the Washington, D.C., Maryland and Virginia area. 

Her St. Norbert professors speak glowingly of Dominique as an authentic and selfless individual, with one citing her as "an incredibly personable young woman" of rare presence, who pursued her education with focus and with purpose. (That same professor noted that to call Dominique "outgoing" would be akin to calling a tornado "breezy.")

Dominique Carter pursues her goals with passion and conviction, while connecting deeply and joyfully with everyone she encounters. She is a worthy recipient of the Young Alumni Award.