Change of Plans
At a time when many of us are feeling that our lives have been derailed, we touch base with four alumni who have already experienced life events that stopped them in their tracks.

Keep Klimbin' with Jim Sutton '64
No, that's not a typo. It's the motto of the Highpointers Club, people who pride themselves on climbing the highest points in each of the United States. Jim Sutton '68, past president of the club and current member, has been doing just that for almost 40 years. His first true high-point experience was in 1981 at Mount Davis (3,213 ft.) in Pennsylvania while on a road trip to visit family, and he's been hooked ever since.

While Sutton's other climbs (47 high points to date) have gone as planned, his attempts on Granite Peak in Montana have not. While experiencing chest pains during his last attempt in 2017, Sutton pulled aside a fellow high-pointer and retired ER doctor for advice.

"He told me, 'You have angina and you're basically on your way to a heart attack,' " says Sutton. "So a few hours later, I got my first helicopter ride." Three ambulances and two hospitals later, Sutton underwent a triple bypass.

Following his heart surgery, Sutton (above) has since reclimbed Michigan and Iowa in 2019, and is hoping he'll tackle Montana's Granite Peak (12,799 ft.) and Idaho's Borah Peak (12,662 ft.) in 2021.

With those climbs completed, he will officially be able to say he's gotten 49 out of 50 high points in the U.S., leaving only Alaska, which has a "world-class" mountain.

While Sutton at 74 is on the older side in mountaineering circles, he hasn't let that stop him. He's completed Timm's Hill (1,951 ft.) in Wisconsin several times and Humphrey's Peak (12,633 ft.) in Arizona three times, among other repeat climbs. Arizona even included an impromptu stop in pitch-black wilderness, an experience he'll never forget.

"I realized I'd left all three of my flashlights in the car," he says. "You have to be ready for anything so I stopped and started a fire. Luckily, a few hours later I saw a light coming down the trail, hooked up with another peaker and we made our way back.

"One of the best things about high-pointing is that it takes you to places you'd never go to otherwise," he says.

His interest in high points sparked from reading the Rand McNally Road Atlas, Sutton says. "I read atlases like most people read books. So I used to pedal around on my bike to the gas station when you could get free road maps, and I'd collect them." He connected with the official Highpointers Club in 1991.

The terrain of the U.S. varies wildly from state to state. Britton Hill, Fla, (345 ft.) is the lowest high point while Mt. McKinley, Alaska, is the tallest at 20,320 ft. Some points are easier to climb than others, but the joy of the trek keeps Sutton revisiting his favorites.

"It's interesting to see that, with the exception of Minnesota, which I still am trying to get back to reclimb, I have done all of them at least once after the age of 55, and 33 of them at or older than 60," Sutton remarks. "Most folks do them at a much earlier age."

Push Pause with Severina Scott '14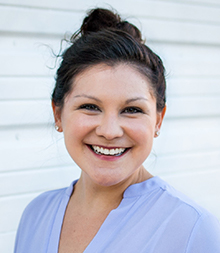 As she entered her sixth year of graduate school at the University of Michigan, Severina Scott '14 realized she couldn't do it anymore. She was disconnected from her work, felt unfulfilled and no longer believed in the path she had set in 2014.

Scott intended to do her dissertation on 20th-century women of color activism in the Milwaukee area, and eventually teach at a small university or community college.

That vision no longer seemed true to what she imagined for herself. "I was fatigued and just going through the motions," Scott says. "I lost myself. … I was really struggling."

As her mental health continued to deteriorate, she battled sleeplessness, anxiety, depression and panic attacks daily. When August 2019 arrived, she knew another year of grad school as things were would cause serious damage.

It wasn't easy, but she decided to take a year off. Fortunately, her program allowed for medical leave.

"I continued therapy, found a good balance of medication, and focused on smaller things like tackling my inbox, and built up from there," she says. She's also grateful for her support system – her partner, parents and friends, as well as her housecat, WinniePat.

As she's now back working on her Ph.D., Scott has revised her end-goal. She hopes to co-create a nonprofit that will provide assistance to students as they transition out of high school. Inspired by St. Norbert's focus on vocation, the organization will help students and their families make college decisions through a lifelong lens.

Life Changes in a Flash for Jim Counter '81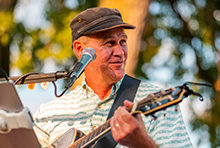 A clear, sunny day.

That's what comes to mind for Jim Counter '81 when asked about that fateful day in April 2018. After an outing at the Mas Tacos restaurant in East Nashville while visiting friends, the musician was the victim of a near-fatal armed robbery attempt.

A 23-year-old tapped her gun on his car window and asked for Counter's wallet. He got out and handed over his money. She pulled the trigger. The bullet went through his lower chest and back, missing his spine, and causing massive damage to his liver and internal organs.

"I remember the metallic clang of the gun barrel tapping against the car window," says Counter. "Life changes in a flash. I'm lucky to come out the other end of it."

That flash turned into three extensive surgeries, two weeks in the Vanderbilt University Medical Center ICU and 15 days at a specialty wound-care hospital in Nashville.

Dr. Raymond Georgen, general surgeon, took over Counter's recovery at ThedaCare in Neenah, Wis.

"He was kind and brave enough to take on my case," he says. "I recovered pretty quickly without needing much rehab." Praying, reading, walking and songwriting were crucial for his healing process.

It's been almost three years since and there are no lingering physical effects, although Counter admits he does appreciate all aspects of his life a bit more. "I'm happy to be breathing and living life again," he says.

His turning point was a small one-hour music show at a retirement home in De Pere, three months after the shooting.

"I asked the lady who booked me, 'That wasn't very good, was it?' " He was simply happy to be in front of a mic again and is grateful for the support from his nurses, his parents, his family and friends, and his fans.

"I lost the calluses on my fingers, too, had to build those up," he says. "Some local fans thought my voice sounded richer, with more depth."

Counter performs a variety of genres, including country, R&B, Motown, pop and rock. While the COVID-19 pandemic hasn't been kind to the music industry, Counter keeps busy. He had to cancel 63 shows last year but he's excited to get back on stage when he can.

Taking the Long Way Round with the Rev. Mike Brennan '99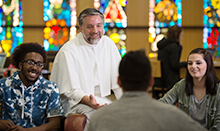 The Rev. Michael Brennan '99 had always considered the priesthood, and initially planned to enter the seminary after attending St. Norbert College.

His path shifted during an American College of Education program through the University of Notre Dame, where he served under-resourced schools and found a passion for teaching.

"I never thought about being a teacher, but ended up really enjoying it," he says.

Nine years later, Brennan was nudged back toward the priesthood: It happened out of the blue and, in fact, during a conversation with his longtime girlfriend. She made a simple and honest observation: "You need to do this." Says Brennan, "Do what?" "She said, 'You're the kind of priest we need.' "

That truth bomb fell on Jan. 6, 2010, the Feast of the Epiphany, and quite an epiphany it was.

"I'm convinced it was the Holy Spirit speaking through her," Brennan says.

A month later, he reached out to several religious orders to discern further: the Augustinians, the Congregation of the Holy Cross at Notre Dame and the Norbertines at SNC.

"Much like my first visit to the campus, spending a weekend at the abbey made me realize that God was calling me back home."

"It's not like I wasn't happy teaching," he says. "But I saw this as an invitation to be true to God's will."

Brennan currently serves as vocations director for St. Norbert Abbey and as a parish chaplain at Old St. Joe's.

Jan. 15, 2021