St. Norbert College in the Time of COVID
College during COVID: We're getting it done. Whether in-person, in lockdown or just plain interrupted, SNC students have managed to stay on track; more, they've excelled themselves at living and learning responsibly for the good of all. The campus community has made extraordinary efforts to ensure a St. Norbert education can continue – an education complete with its hallmark qualities of relationship, relevance, resourcefulness and resilience.

It wasn't always easy. There was a lot to sacrifice. But we're making it work. Here's a glimpse of life in the middle of an extraordinary chapter in campus history.

Ma(s)king the best of it
Among the myriad changes people notice on campus – from physical-distancing signage and well-separated seating areas to an abundance of hand-sanitizing stations – are some that remind us we're not alone in all this. Norbert of Xanten, Abbot Pennings and Austin Cofrin (of Cofrin Hall) join students, staff and faculty in dutifully wearing their own masks.

The statues' display of solidarity, courtesy of mask-makers Lauren Gaecke (Registrar) and Shelly Mumma (LSE), is indicative of how the college has approached the pandemic: masking up and making the best of the situation.

Creative solutions have been the order of the day. When the campus went remote for the second half of the spring semester, athletes needed to find ways to continue their training at home. Volleyball player Colleen DeLisle '23 turned to her dogs, Rex and Mojo. Rex, a 3-year-old Anatolian shepherd weighing in at about 100 pounds, became DeLisle's squatting partner. "The entire time I was lifting them, they had big smiles on their faces and were wagging their tails," she says.


"While none of us had any idea this is how 2020 would go, it is very possible that we will learn some of the best lessons in creativity and flexibility." – Emilie Larsen '22

Back on campus in the fall, many student organizations met online, and those that could not adapted to the new safety guidelines. The Ballroom Dancing Club found members could practice in person if they mirrored partners at 10 feet apart and wore masks. "Once orgs realized they could hold events or practices with COVID guidelines in place, they started to thrive," says John Seckel (Campus Center). LSE offered naturally distanced sports like badminton, ping-pong and even cornhole. Women's Golf was one of many varsity teams also thinking outside the tee box. The team participated in a floral-arrangement workshop at Green Bay Floral & Greenhouse, owned by Tyler Arkens '07. "We plan to do this every year [going forward] because the team really enjoyed it," says Coach John Sabo '07 (College Advancement).

And, as the world embraces digital connectivity, SNC continues to find more ways to bring its friends together virtually. Thanks to help from volunteer Tom Tengowski '94 and communications provider Nsight, the parish fast-tracked the installation of a camera system donated by Rob and Cathy (Block) '81 Riordan. The parish was able to live-stream Mass from the first Sunday that Wisconsin's safer-at-home order was in effect. Old St. Joe's continues to broadcast its services, which now reach new alumni regulars
as well as the on-campus, in-person congregation.
Emilie Larsen '22 reflected on her fall semester. "We are asked to keep a very small amount of people within our 'circle' in the event that one of us becomes infected. While this is very challenging … it has led to more meaningful connections as we must limit ourselves, giving us more time with those we truly care about ... ," she says. "While none of us had any idea this is how 2020 would go, it is very possible that we will learn some of the best lessons in creativity and flexibility."
Two Czech Norbertines working on their English through virtual classes at SNC have been joined by their superior, Abbot Daniel Peter Janáček. (Janáček presides at Strahov Abbey in Prague, where the body of St. Norbert himself rests.) The Norman Miller Center saw new possibilities, too, and has offered presentations and Q&As with high-profile speakers including Nobel Peace Laureate Leymah Gbowee and former white supremacist Arno Michaelis. Even the fall Career & Internship Fair cast its net wider: Students were able to meet virtually with representatives from organizations with corporate headquarters beyond the region.
Because of safety concerns, the only large-scale gathering the college has hosted is its Halloween party. A number of student groups pitched in to help organize a COVID-cautious bash – the most well-attended in the annual event's eight-year history, says Tom Doughman (Counseling). Other gatherings, including SNC Day, were forced into a hiatus, but Commencement 2020 was one event that couldn't go uncelebrated. The ceremony, postponed to August, became a virtual gathering that was streamed via YouTube. It's been viewed more than 2,500 times.
Wanting to counter the challenges students are facing, the college has offered a tuition-free ninth semester: 120 students took up the Norbert's Ninth promise, which offers them the chance to round out their athletics career post-COVID, accommodate an international experience, or extend their engagement on campus.

Even incoming SNC students are taking the challenges in stride: 1,867 students enrolled for fall semester 2020, and by early December, 3,406 students had already applied to SNC for the academic year 2021-22 – a 23 percent increase over last year.

Supporting these current and future students, generous friends of the college are boosting SNC's ability to offer scholarship aid. The college was cautiously optimistic ahead of its Giving Day in May, aware of the financial hardships many are experiencing. But the community not only rallied, it raised $595,882 for student aid – breaking all previous records for Giving Day.

Academically excellent, pedagogically versatile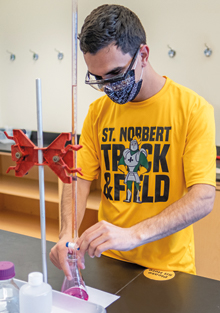 They met in new and unusual spaces, like the conference rooms in Bemis or the gym in the Pennings Activity Center. They washed their hands, masked up, kept their distances and sanitized their desks. They met in person and sometimes online – perhaps from their homes, even perhaps from their quarantine quarters. And, as faculty and students found new ways to use tech tools, they looked, too, to maintain the relationship they've always cherished: a rich connection of teaching and learning.
Katie Ginsbach (Spanish) used Microsoft Teams to organize a virtual language exchange between her students and those attending the University of San Pablo in Spain. They regularly chatted about the pandemic, current events and other topics.


Students in Introduction to Peace & Justice gave a virtual presentation to an imagined audience of their choice using Zoom. Craig Ford (Theology & Religious Studies) was impressed with the issues his students addressed in his online class, from how certain campus activities could be problematic for students of color to how COVID-19 changes in local schools affect families.


The Rev. Jim Neilson '88 is grateful to students who have helped him through technology issues as he taught art classes remotely. "I don't know what I would have done without the kind and gracious assistance of our tech-savvy students," he says. "I couldn't even program my own VCR back in the '80s, so there's been a significant learning curve for me to effectively Zoom through the three art classes."


Michael Olson (Physics) had to transform a traditional student-run activity into a COVID-safe version. Using a Go-Pro camera installed by ITS on the ceiling of the Gehl-Mulva Science Center lobby, Olson and a few student assistants recorded hover-puck collisions so his class could analyze the videos to investigate the conservation of movement and kinetic energy in collisions.


Lillian Medville spoke to students of Erica Southworth (Education). Medville is the creator of the game "Your Privilege is Showing," which helps players develop skills for challenging conversations around inclusion, equity and diversity.


Concerts and productions were livestreamed and recorded, so music and theatre studies students and professors learned new skills, like video and audio editing, along-side one another. Says Stephen Rupsch (Theatre Studies): "No one has dropped what we love to do. … They've had to be clever about what they're doing."


Nick Mauro (Physics) worked remotely with students on a 10-week summer research project sponsored by the National Science Foundation. Leah Zimmer '22, Peader McGrath '22 and Sarah Bertrand '23 studied how metallic liquids can transform into exotic states of matter. The inability to perform experiments made the process cumbersome at first, but the students pressed on; they collaborated remotely and were successful in moving the needle on their research. "I've never been more impressed with my students than I was this past summer," Mauro says. "When confronted with challenging circumstances, they excelled."


Before heading off to medical school, Jaclyn Schneider '20 is working as a contracted research associate with the Marshfield Clinic Research Institute's Integrated Research and Development Laboratory. As part of a $22.4 million COVID-19 research grant, she runs clinical tests, processes samples from around the country and extracts DNA from those samples to send to the Centers for Disease Control & Prevention (CDC) for a number of its studies. Her work will help develop and test vaccines and monitor the spread of the virus and comorbidity during the flu season. Although the experience hasn't been without its challenges, Schneider says she's gained crucial skills needed in the clinical research field and continues to be inspired by her team, which has worked tirelessly to support the CDC's efforts to learn more about COVID-19's transmission.


Chris Bradford (Education) says future educators are proving valuable to their teacher-mentors in area schools. They're stepping up – and they're also getting firsthand virtual teaching experience. Students, too, are tutoring the children of health care workers online in partnership with Prevea Health. And, with the help of undergraduate research assistants, Stephanie Shedrow (Education) is conducting research to determine the effectiveness of digital read-alouds for elementary school pupils.


When Laura Krull (Sociology) moved her teaching online during Wisconsin's safer-at-home order in March, her first step was to ask her students how they were coping at home – with caring responsibilities, anxiety, technology failures and all – so she could work around their needs. Doing so, she says, led to more effective teaching. Krull and her co-researcher Alanna Gillis published their findings about students' experiences of that anxiety-ridden time in Spring 2020 in the journal Teaching Sociology, just as Krull arrived at SNC in the fall semester.

Krull's first student survey found that the standard model of Zoom lectures was impossible for many because of limited technology resources and lack of privacy. She responded with a shift toward flexible and asynchronous learning, which has fed into her current hybrid model of teaching at St. Norbert. Her students satisfy participatory requirements through an online forum and do assignments in small groups or individually. She encourages them to ask for penalty-free extensions. "I give the student the responsibility of setting their deadline, about being clear about how much time they need to do their best work. … We also saw the importance in the research in being extremely clear and consistent about expectations of the student and clear about their teachers' commitment to them. You need the structure in order to have the flexibility."


Emily Thornton '20 took classes and did a virtual internship through the Washington Semester Program at American University in D.C. this fall. In Spring 2021, Clay Larson '21 and Verenice Ramos '21 will participate in a virtual program through Universidad San Francisco de Quito in Ecuador.


Despite the semester's difficulties, Rachel Stover '23 chose to think on the bright side. Stover, an intern in College Advancement, shared work from her fall printmaking course with her virtual colleagues with the following note: "Hello! For my printmaking class, we had to distribute our prints as part of this assignment, and I chose you! This design has bird of paradise flowers, which can symbolize joyfulness and magnificence. It can indicate exciting and wonderful anticipation. Before starting this project we read Anne Lamott's 'Traveling Mercies,' where she says, 'When everything in your life goes wrong at once, something big and lovely is about to get born.' I'd like to think that is what is happening now. Everything in the world seems to be falling apart and out of control, and just when you think it can't get any worse – it does. But maybe something big and lovely is about to get born." 
Throughout, students and faculty found numerous ways to excel in the face of difficult circumstances. "At the center of teaching at SNC is the relationship between faculty and students," says Reid Riggle (Education). "This giant, unplanned experiment with technology will help us know how to use technology better to facilitate learning."


" 'When everything in your life goes wrong at once, something big and lovely is about to get born.'
I'd like to think that is what is happening now." – Rachel Stover '23

In it to the finish
Stuart Korshavn
(Psychology) retired last spring after 35 years of teaching at St. Norbert College. He wrapped up his final semester not at the front of a classroom full of students, as may have been expected, but in front of a computer. It didn't keep him from staying connected. He made sure to check in on his students' progress on a more personal level, too. "His professionalism is remarkable," says
John Dose
(Social Sciences). "What a way to end a career … [from] having never taught an online course to executing his courses online with precision and the utmost care for his students."
Korshavn was one of many forced to adjust course delivery mid-semester when the campus closed in March. He took the challenge in stride, working with Information Technology Services (ITS) and colleague
Lisa VanWormer
(Faculty Development) to record his lectures using PowerPoint and voiceovers. "I tried to imagine a classroom full of students even though I was staring at and talking to a beige wall," Korshavn says.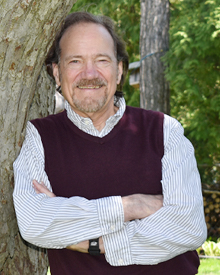 David Duquette
(Philosophy, Emeritus), who came out of retirement to instruct classes last spring, found himself in similar circumstances: "I cannot be grateful enough for the individualized assistance I received from
Taylor Jadin
. We had several one-on-one sessions, one of them on a Saturday. I don't know how I could have managed the transition without his expertise."
As the semester carried on, Duquette (pictured) says seeing first-year students do well in the face of such change was heartening, as was the way the community banded together. "The encouraging and supportive comments by
President Bruess
in his updates also helped with my motivation to step up," says Duquette. "Even if he wasn't speaking to me directly, I think it helped with morale and kept the spirit of
communio
at the forefront."
---

At Home With Alumni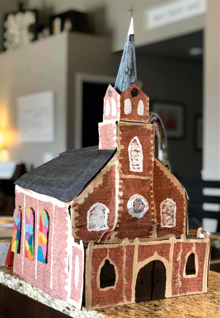 The global health crisis forced in-person gatherings and reunions to cancel this year, but St. Norbert alumni have been finding ways to stay connected.

SNC track-and-field and cross-country alumni gathered for a virtual reunion to reminisce as well as honor team members in the 2020 graduating class. Jenny Scherer '10 shared photos of the Zoom gathering on Facebook, writing, "So glad we could honor & toast this year's seniors, who didn't get to end things the way they deserve, but who are going to continue to go on & do GREAT things!"

Other alumni leaned on art to connect with their alma mater. Travis Vanden Heuvel '09 and his daughter Faith turned their love for St. Norbert College Parish into a papier-mâché model of Old St. Joe's. The office of alumni and parent relations gave everyone a chance to channel their inner artists, offering printable Norby coloring sheets and activity pages designed by Nick Patton '03 (Communications). Patton, author and illustrator of "Norby the College Mascot," and his children bring Norby to life in a video reading of the children's book. Find Norby activities – and more ways to connect with each other and the college – at snc.edu/alumni/homeresources.

Contributing to this story were Rachel Mueller '14, Geraldine Brennan, Corey Wilson and Erika Ditzman '20, with staffers Susan Allen, Hannah O'Brien and Laura Treichel.

Jan. 15, 2021