Leaving Legacies Beyond the Classroom
As the seasons continue to change in this year marked by turbulent firsts, the abbey and college communities pause to reflect upon the lives and contributions of five influential St. Norbert College educators.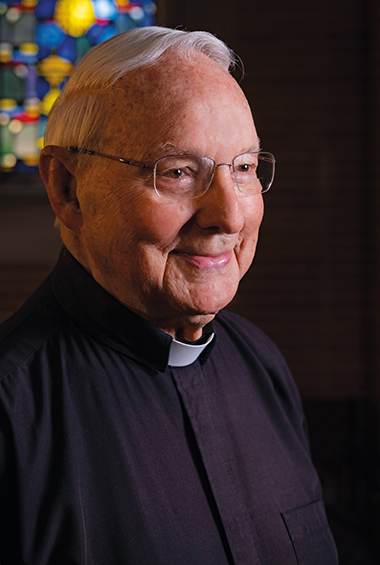 The Rev. Rowland De Peaux '48 (French, Emeritus) died Sept. 16, 2020, at the age of 94.

St. Norbert's longest continuous resident, De Peaux (pictured) lived at the college as student, professor and priest through eight decades before moving to the abbey for his final years. On campus he made his home in Frank J. Sensenbrenner Hall, where, while the Packers were in residence for their summer camps, Coach Vince Lombardi attended Mass every day and would serve Mass for him.

De Peaux taught French and Spanish at Prémontré High School and St. Norbert, became a member of the Board of Education for Abbot Pennings High School and received numerous accolades. He encouraged the college's first study-abroad student and later established the language lab on campus.
Few who attended the President's Dinner for faculty and staff at the opening of the 2019-20 academic year will forget hearing De Peaux lead everyone in singing the "Vivat." "Father De Peaux was known and beloved across the generations as a priest, teacher, traveler, floormate, fraternity brother, SNC alumnus, longtime chaplain of the SNC Alumni Association, SNC ambassador extraordinaire, lover of languages (especially French), choir member, friend, a Packers fan and a faithful Norbertine," says President Brian Bruess '90. "He took great pride in having worked with all eight presidents of SNC, and it was an even greater privilege to those who knew and worked with him, myself included." 
A scholarship endowed in the De Peaux name was established at the college to mark the priest's 90th birthday. and continues to honor his legacy.

De Peaux celebrated his 65th priesthood jubilee in 2016 and served in multiple capacities within the community throughout his ministry. 

He is survived by the Norbertine community, sister Emerine Rondeau, brother Lloyd, one sister-in-law, and several nieces and nephews.

"One thing I will always remember is how I felt each time I talked with Rowland," says Bruess. "He had a natural ability to make each person he spoke with feel valued. He always seemed to look directly into the eyes of those he encountered, and he was equally graceful at offering a deep listening ear, sharing an inspiring prayer, or performing a spontaneous and beautiful song. May our Norbertine friend rest in peace."
---

The Rev. Brendan McKeough '47 (Economics, Emeritus) died Nov. 11, 2020, at the age of 98. A long-serving member of the faculty who kept his connection with the college alive throughout his retirement, McKeough's long career included service at Abbot Pennings High School and in Lima, Peru, and as an associate pastor in some of Mexico's poorest regions. Brother Steve Herro '85 remembers, as a student, attending an evening class McKeough offered on the Church's social encyclicals. "What was a 20-something year old doing spending his summer nights in a classroom listening to a 50-something year old priest and classroom of nuns of a similar age (or older)? In retrospect, perhaps my choice to invest these hours studying these topics with this priest reflected my own journey to challenge the comfortable, middle class, socio-economic philosophies of which I had been raised and was currently living."

McKeough is survived by the Norbertine community, nieces and nephews, cousins, and friends.
---

Ray Zurawski (Psychology, OIE) died Nov. 3, 2020, at the age of 66. Zurawski began his career teaching at the University of Texas-Permian Basin. He arrived at St. Norbert College in 1986. He made a profound impact on the college community as a faculty member and, since 2015, as associate vice president for institutional effectiveness. Michael Rosewall (Music) notes that Zurawski was the consummate professional, both as a teacher and as a custodian of the college's commitment to improving student learning. "His work touched almost every corner of the campus and colleagues will long remember his quick wit, generous spirit and devotion to his students."

Zurawski is survived by his wife, Susan, and a daughter, Alexandra.
---

Bob Horn (English, Emeritus, Academic Affairs) died Sept. 28, 2020, at the age of 82.

Long-time colleague Ken Zahorski (English, Emeritus) remembered when they both were working toward receiving their doctorates in English at the University of Wisconsin-Madison. "He was largely responsible for my taking a position at SNC," says Zahorski. "Bob excelled not only as a top-notch administrator, but also as a friend. He loved the college and believed strongly in its mission."

Horn's St. Norbert journey began upon joining the faculty in 1968. During his time as academic dean, he served as architect of the college's faculty development program. His extraordinary contributions were marked by an honorary degree, conferred in 1995.

"I can't think of anyone who better understood the liberal arts mission of St. Norbert, and worked harder toward implementing, promulgating and defending that mission," says Zahorski.

Horn retired as dean in 1999 but continued to teach until 2002.

He is survived by his wife, Jean '87, children Tracy Siciliano and Andrew, and grandchild Stella Siciliano. The Horns' late son Bobby is remembered at the college through the Bobby Horn Memorial Endowed Scholarship.
---

Dan Giovannini (Communications, Emeritus) died Sept. 15, 2020, at the age of 89.

Before joining the communications faculty in 1967 and teaching for 30 years, Giovannini served in the 547th U.S. Air Force Band. He loved music and musical theatre, and was introduced to his late wife, Kathleen (Kerrigan) '63, while both worked on a production of "Little Mary Sunshine": the first ever summer musical presented by St. Norbert Music Theatre. Their children also became Green Knights: Peter '88, Dorothy Kazik '89 and Anthony '92.

Donald Taylor (Galleries, Emeritus) paints this picture of his associate: "An original member of the Curmudgeons' Table in the Caf, Dan was a big man with a big heart and an abundantly gregarious soul who brought laughter and challenge to all within earshot."
---

Maria Teresa Mallet (Spanish, Emeritus) – wife of Donald LeMense '55 and mother of Teresa LeMense '83, Montserrat LeMense Mallat '84 and Diana LeMense '90 – died July 26, 2020,

Mallet joined the faculty of the modern foreign languages department in 1964 and taught courses in Spanish language, literature and civilization until 1998.

"Maria Teresa brought a breath of internationalization to SNC that significantly impacted our students," says Gratzia Villarroel (Political Science). Mallet founded the international studies program and was a pivotal figure in the ongoing internationalizing of the college.

"She was an intellectual, a visionary and one of the most hospitable persons anyone could meet." says Villarroel.
---

Barb Siegel (German) died Jan. 30, 2019, at the age of 73.

Born and married in Germany, Siegel met her husband Charles in Ulm, where he was an officer in the U.S. Air Force. Along with their son, the family immigrated to Duluth, Minn., in 1974, and later to Green Bay.

"Barb will be remembered for her good cheer and love of teaching," says Tom Conner (Modern Languages & Literatures). She taught at Prémontré High School before St. Norbert, founding the German student exchange program during her 12 years at the college. She also taught English as a foreign language to immigrants at the Literacy Council.

Siegel is survived by her husband; children Mark, Scott and partner Landon Clark, and Crystal Funari; grandchild Zoe; and brothers Joachim, Tilmann and Markus Röhl.

Jan. 15, 2021