Fresh Off the Press: A Tale of Love and Wanderlust in Wisconsin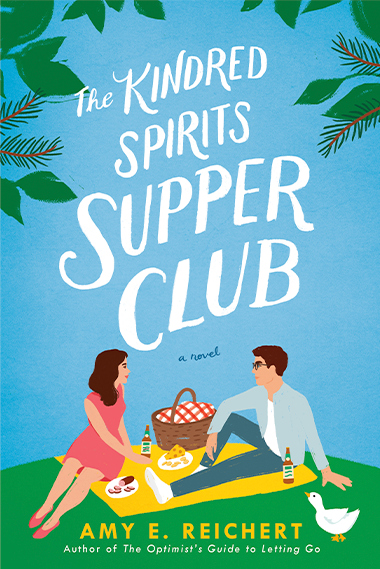 Sometimes things just have a way of working out. In "The Kindred Spirits Supper Club," the newest novel by Amy (Guertin) Reichert '96, a young journalist regains her sense of purpose by reconnecting with her Wisconsin roots along an unexpected journey. Aided by friends new and old, mysterious and strangely transparent, Sabrina Monroe finds meaning in her life through simple acts of kindness and an openness to new relationships.

Reichert's prose brims with odes to Wisconsin's under-the-radar culinary culture and small-town quirks. From tours aboard the amphibious, motorized Wisconsin ducks to long nights spent in laughter chasing mouth-watering fried cheese curds with two, three old-fashioneds, "The Kindred Spirits Supper Club" (Berkley, 2021) weaves a reconciliation with where we've been and where we're going. It explores a youthful longing for something bigger that often clouds out an appreciation for the present.

Sabrina's tale was born from a desire by Reichert to make a difference that matters. There are no technological breakthroughs or Herculean efforts in this story. There's something even more important to society: a commitment to helping others and inspiring others – even ghostly others – through tiny acts of kindness. Not unlike the sense of community nurtured on the St. Norbert campus, this seed of selflessness flourishes in Reichert's work.

Reichert invites us to leave the murder mystery or true crime on the shelf for a few nights and revel in the magic of human relationships and an ability to find joy when we look for it.

Enjoy our excerpt and grab a copy of "The Kindred Spirits Supper Club" from your favorite book supplier online or ask for a copy from your local bookstore.


---
From "The Kindred Spirits Supper Club," chapter 22

One more tour to go and she could go home and crash. One more to go.

Sabrina eased Norman into the chute, shifted him into park, and opened the port-side chain so the passengers could get off. Once the final passenger unloaded, she closed that gate and opened the starboard-side one, finally raising her gaze to greet the new passengers, but there was only one.

Ray.

"What?" she said.

He handed her twenty slips of paper, twenty tickets. He'd bought out the entire boat. Twenty little flags of freedom.

"I could hug you!" Sabrina said.

"I accept your offer." He looked behind him where Erika had come out of her office to watch them. "Let's make it a good one," he whispered.

He wrapped her up like a warm blanket, and she wanted to cry with relief into his shoulder. All the tension she'd stored in her back muscles for the last six hours eased enough that she could probably touch her toes without pulling anything important.

"Um, do you want the tour?" Sabrina asked.

"I paid for a tour, I expect the entire tour."

Sabrina smiled and set her headset and battery pack on the seat behind her. She wouldn't be needing that. "Make sure to tip your tour guide," she said.

She flipped open the hopper seat next to hers and gave it a pat. "Your VIP seat, sir."

They both settled into their seats and she pulled away.

"What are you doing here?"

"I got your text. I thought you'd like this better than a boat full of tourists."

"Duck."

Ray nodded. "Duck?"

"Norman gets crabby when you call him a boat."

"Norman? Do I need to worry about a jealous boyfriend?"

"It's an open relationship."

Ray laughed, and it warmed Sabrina from head to toe.

"I brought snacks, too." He held up a container of sliced cheese, thinly sliced summer sausage, and an unopened sleeve of Ritz crackers. "Did you know Wisconsin has the only Master Cheesemaker Program outside of Europe?"

"I did not, but it's good to know I have options if I need a new career."

Sabrina loved his random facts.

As they drove and snacked, she pointed out the more interesting sites, leaving out the egregious puns and singsongy tour guide voice. It was one friend pointing out cool stuff to another friend. All that was missing was an ice-cold beer.

"I can't believe you bought all the tickets," said Sabrina.

"I insisted on the group rate, too."

"Erika looked pissed."

"Is she the reason for the bad day?"

"Isn't she always? If the money weren't good . . ." Sabrina trailed off, not wanting to ruin their time talking about her problems. She pointed up to a building on a cliff. "There's The Otter Club."

"I wonder if I've seen you drive by."

"Most likely. I come through here several times a day. I'll honk next time."

"Do that. It'll become our thing, like when Carol Burnett would tug on her ear at the end of every show."

"Who's Carol Burnett?"

"You did not say that. I'm not that much older than you," Ray said.

A smile broke Sabrina's confused expression.

"I kid. I know who she is. Mom had the entire show on VHS back in the olden times."

Ray laughed.

The rest of the ride was relaxing. He asked questions about Norman, the river, and the job and was interested in the stories she didn't usually share with the groups – like the infamous parties of the Tommy Bartlett skiers and her favorite rock formation shaped like a piano.

Instead of returning to the dock, she brought the duck to the parking lot where they parked at the end of the day, and a mechanic rolled over a staircase so they could get down. Ray waited as she did her final checks and punched out, walking her to her car. Was he expecting that they would still go out like they originally planned? She was wiped out, just happier.

"I still need to get some sleep."

"Of course." He waited for some response she didn't know how to give.

"Thank you. You didn't have to do what you did, but I'm sure it made an impression on Erika."

"I didn't do it for Erika."

Sabrina swallowed. "Why did you?"

"You said you were having a bad day. I wanted to make it better."

"You did." She raised on her tiptoes and pressed her lips to his cheek. "Thank you, Ray Jasper."

Before climbing into bed, Sabrina finished packing for her trip. She didn't need much: a change of clothes in case of catastrophe, her computer, its charger, her makeup kit with everything she'd need to touch up her hair and face, a toothbrush, and toothpaste. It all fit in her computer bag.

She'd picked up her book to read before bed when her phone pinged. It was Ray, and he'd sent an attachment.

Thought you'd like a bedtime story.

She pressed Play on the attached sound file to hear Ray reading Where the Wild Things Are, complete with voices. She put in her earbuds, turned off her light, and listened to him rumble and growl as a wild thing, a sound she felt deep in her own chest. It overwhelmed her; she'd never met someone whose thoughtfulness so perfectly matched what she needed. Charles had occasionally brought her flowers, but he'd never once thought about whether she liked them – and she didn't. They died so quickly, it was a waste of money. Sabrina preferred consistency. Like a bedtime story she could listen to every night.

When it finished, she listened to it again, then again, each time falling deeper into the story, relaxing into her bed, with Ray filling her head as she fell asleep.

July 9, 2021