At the Point of Departure
The close of any academic year is a particularly poignant time for those who are leaving the college. As they look forward to a world of opportunity, they look back on the place where they made memories they'll carry forever.

As Erika Ditzman '21, our student associate in the office of communications, prepared to graduate, we invited her to interview others in the process of leaving St. Norbert: a professor, a staff member and a classmate (who, as it happened, would not be going very far at all).

Russ Feirer (Biology), retiring from the faculty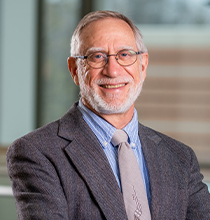 Remember when you were five and you wanted to be a paleontologist/baseball hero/astronaut? How does that dream look now, through the other end of the telescope?
Well maybe not at age 5, but absolutely in Grade 5. I remember going on class trips to the Field Museum and Museum of Science & Industry in Chicago. (Yes, they turned us loose in those places with instructions of, "Meet at the bus at 3 p.m. so we can head back to school in Wisconsin." ... We were on our own the whole day!) I remember picking up a pamphlet titled "Be a Scientist." That did it for me. I wanted to become some sort of scientist and my parents fanned the flames by giving me the obligatory chemistry set, microscope and telescope.

Did you choose the right field of study?
Yes, although I think I'd have been happy in any of the science fields.

What didn't exist before you made it?
Children, houses, furniture and good friendships.

Virtual or in-person?
In-person, no question about it. Had classes been virtual my first years here, I would have changed careers. The student interactions, bantering, etc are among most the pleasurable parts of the job.

What are you most looking forward to next?
We have a place in Door County where we spend most of our summers, and next August we'll be able to stay there rather than return to update syllabi. I'm a bit of a woodworker so I'll also have more time for that.

Who would play you in the movie of your life?
I'm afraid that it would be some low-budget, indie movie starring an actor that no one has ever heard of – and the role will doom his career!

John Devroy (Communications), retiring as the college's videographer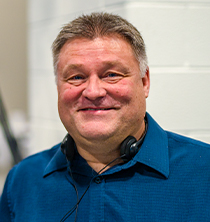 Remember when you were five and you wanted to be a paleontologist/baseball hero/astronaut? How does that dream look now, through the other end of the telescope?
I wasn't sure what I wanted to do with my life. I knew I wouldn't be a star athlete despite trying my hand at basketball in high school. All I knew was that I liked photography, art and history. Even after graduating from college with a BA in communication, I wasn't sure if I would be able to find something that I would like to spend the rest of my life doing. The opportunity came along for me to apply to an opening for a part-time sports videography position at a TV station, and that set the course of my life. I spent 31 years in all at the TV station before rediscovering myself at St. Norbert College. It has been just over five years that I have worked for the office of communications. It has been another great experience for me, working with a staff of highly skilled marketing professionals. I enjoy seeing and working with students. It makes me feel young and hopeful about the future. I am amazed at how "together" our students are academically, socially and in every other way. I leave with no regrets because I gave every effort I could muster to advance the goals of our department. Well, maybe one regret: leaving a lot of friends behind.

What didn't exist before you made it?
A lot. My job is by nature creating videos, telling stories. No, I didn't invent the wheel, nor was I the first to fly, but I did give people a view of their world that they could watch while sitting on their couch.

How did you make the decision to retire?
It felt like the right thing to do and the right time to do it. Even though the equipment associated with my job has gotten considerably smaller and lighter weight through the years, it still feels heavy to my knees and back sometimes. I think health is the number-one criterion for making a decision. There are so many things I still want to do with my remaining years and being able to walk reasonably well will make them all much more enjoyable!

What are you most looking forward to next?
I enjoy a lot of things that are not work-related, but I still do like photography. I may give it a rest for a while, but I'm sure I will still want to take a picture or two. I like to hike in the great parks in Wisconsin, like Peninsula State Park and The Ridges in Door County. I like planting flowers and working in my yard. I like art, so maybe I will do some drawing and painting as I did when I was younger. I will enjoy my time doing things with my wife, Jane, and our three dogs, Moby, Atticus and Grantham.

What would your autobiography be called?
"Much Ado About Nothing"!

At this stage, what do you know for sure?
Whatever you decide to do in life, whether on your job or in your personal life, give it your full effort. More often than not, that is enough.

Amanda Reding '21, now beginning her career in her new position as admission counselor at St. Norbert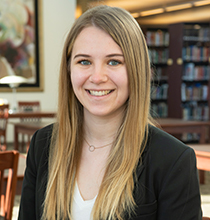 Where were you 10 years ago? Where do you see yourself in 10 years?
10 years ago I was finishing up my first year of middle school in St. Paul, Minnesota. (I loved my language arts classes and reading.) In 10 years, it is my hope that I love my job, have traveled lots and maybe have a family of my own.

Greatest learning experience?
I would say that my biggest learning experience was the semester that I spent abroad, studying in London, England. This semester showed me what it was like to truly be independent and how to best adapt in new and uncomfortable situations. If there was a place that I wanted to go visit, it was up to me and only me to make that happen. This experience was ultimately cut short due to COVID; however, I learned a lot from this as well. It reminded me how important it is to live in the moment and not take time and experiences for granted because you never know when they'll be cut short.

Potato Bowl or Turkey Shawarma?
Between those two options I would have to say Turkey Shawarma, but my favorite meal in the caf will always be the Hulihuli Chicken Bowl.

I wish I would have ...
… participated in TRIPS. I think this is a great organization on campus and can be very impactful for students.

What will communio look like in your new life?
I know that the idea of communio is one that will stay with me for the rest of my life. To me, communio is really about making all people feel valued and respected. It is about lifting one another up in hard times and being that person that people can lean on and count on. In addition, I think communio is also about working together as a community to do good and support one another. I am so incredibly thankful for all the people that I have met and the memories that I have made while attending St. Norbert College. It was a place where I learned to grow, make mistakes and become more independent.

How have you surprised yourself?
I always thought that after I graduated I would return home to St. Paul. However, I will actually be staying in the area to work for St. Norbert as an admissions counselor – for Minnesota and Western Wisconsin. This is an opportunity I am beyond excited about and I couldn't be happier with my decision. I think it goes to show you to never say never about something.

What will your autobiography be called?
My autobiography will be called "No, I'm Still Not a Packers Fan!" This has been a running joke between my friends and me; if anything I have only become more of a Vikings Fan – and every game Sunday I proudly wear my Purple and Gold.

July 9, 2021