In Case of Emergency
Classroom teaching can be done from a theoretical distance; removed by time, technology and humanity to the point that a real-life, relatable event isn't much more than black words on a white textbook page.
That is, dry and antiseptic.
Jamie O'Brien (Business Administration) recognizes the danger. But he never wants to feel unfulfilled about the business management courses he teaches.
"Two years into my time here at the college, I was boring myself," he says. "And if I was bored, I knew there was a chance that the students could be bored, too. What I was doing in the classroom didn't feel like the most effective way to think about helping the students learn." 
In autumn 2016, O'Brien made a course correction that stamped the lessons of humanity on his classes and, ultimately, allowed his students to step into the cockpit of Air France 447 before it met its doom. The real life Rio-to-Paris flight, in an Airbus A330, ended in the Atlantic Ocean on June 1, 2009. All 228 passengers and crew members died.
The lessons of Air France 447, a horrific story filled with business and communications scenarios, are all about life and death.
While O'Brien didn't write the book on the tragedy – others have – he did write the first case study (with teaching notes) on the disaster, published this spring in the prestigious CASE Journal. He uses his AF447 case study as part of his classroom shift from lecture presentations to full-class discussions.
The reviews from students are glowing.
"This reality-based learning has gone beyond simply defining a term or concept and explains why and how it is relevant to real-world situations," says Bradley Bermke '19. "I absolutely believe that by taking this class, I better understand how I can use the information and knowledge I absorbed in this course and apply it to my life."
"A classroom culture that encourages the students to share their past workplace and life experiences has a way of enriching each person that's involved," says Samantha Van Dreese '19.
O'Brien had nonclinical reasons to write the AF447 case study. Three crash victims were from his native Ireland, doctors who were celebrating their accomplishments and their futures. They were Jane Deasy, 26; Aisling Butler, 26; and Eithne Walls, 27.
"Not to diminish any of the other folks who were killed in the crash, but it was extra sad because the three Irish women who were onboard, after coming out of medical school, were in Rio, in Brazil, celebrating getting their MDs," says O'Brien, who earned his Ph.D. from the University of Limerick, Ireland, in 2012. 
"Ireland's a small country. It's the size of Indiana, almost to the square mile. It's 4 million people. It is a small island. So, when a tragedy like that happens, everybody feels it."
For roughly two years – from the time of the crash to the time the "black box" recorders miraculously were found by robot submarines, thousands of feet deep in the Atlantic Ocean – the reason for the crash was a mystery.
The Airbus A330 is one of the world's most advanced and capable aircraft. The flight path from Brazil to France is common. The cockpit was manned by two experienced co-pilots and a veteran captain who himself had more than 11,000 hours of flight time, including 1,700 hours on the A330. Neither terrorism nor untoward behavior on board the aircraft was suspected as a cause for the crash. 
The recorders held the answer. Words frantically exchanged in the cockpit in the final 15 minutes of AF447 – a chilling and frustrating conversation that screams volumes about avoidable confusion, decision-making in stressful conditions, protocols of leadership, and the frailty of human beings. 
Human error was determined as the major cause of AF447's demise. "They reacted about as wrong as you could react to a situation," O'Brien says.
Mechanical issues – most notably ice crystals that formed in external sensors that determine air speed – were not mitigated by manual methods, although most of the challenges were common issues for experienced pilots.
"That story, in my mind, was really good at answering questions about human decision-making and decision-making errors," O'Brien says. "The bulk of the case is the final 10-minute conversation between the pilots, which is harrowing. … You see these two men struggling to figure out what is a very simple problem for most pilots."
In late 2017, as O'Brien was redesigning his SNC classes, he sought a case study of AF447 for his teaching purposes. He found none.
"To my shock – horror might be the word – nobody had written about this case, and I could not fathom that," he says, "because in my mind, and maybe it was because I was slightly infatuated with this, this was the perfect case to get at that problem in the class. So, I thought, 'I'll write it.'"
O'Brien's case study, relying heavily on that fateful discussion among pilots, played a starring role in his Fall 2018 Strategic Management Capstone Seminar.
"The Air France case really made an impact on me personally because it made me realize that strategic-management examples are not only found in a business setting; there are ways to effectively lead a team in so many aspects of life," says Dana Fliss '19, a student in the Strategic Management class.
O'Brien intends to steer all his classes to a case-study discussion model. He augments those conversations with video-based podcasts that focus on the theory behind the real-world examples he and students discuss, applying to each essential management tenets and an uber-detailed syllabus that leaves little room for not understanding his expectations.
"This format not only engaged the class by providing well-known, real-world situations," says Peter Meyer '19, also taking Strategic Management, "but the cases also intertwined with key concepts that made the material more relatable and memorable. Months later, I can still recall the concepts gained from the specific case stories presented by Dr. O'Brien – making me confident that this style of hands-on-learning has been beneficial in my college experience."
"I had Prof. O'Brien in two separate classes where he used case studies instead of lecturing," says Tyler Takahashi '19. "I found it much easier to not only pay attention in class, but also easier to retain that information and be able to apply it in the real world."
"Some of the concepts we discussed included cognitive bias, overconfidence bias, recency effect, diagnosis bias, and complex systems," Van Dreese says. "Throughout the course of the semester, our class dynamic shifted rapidly from contributing to class discussion out of obligation and more towards desire to share our insights with one another."
For O'Brien, this is gratifying and a welcome relief from lecture-based classes.
"Students weren't reading textbooks," he says. "And you can sort of hold them accountable for reading by doing quizzes. But the quizzes just turned into a means to an end. They were just doing the quiz; they weren't really reading [the textbook] with any mind to understand the material. To be able to use this case in class with my students was the perfect storm of bringing my research and my teaching together in a way that was so rewarding, in a way I hadn't been able to do before." 

---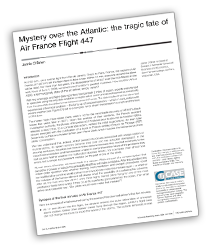 Making (and Sharing) the Case for an Excellent Learning Experience
Mystery Over the Atlantic: The Tragic Fate of Air France Flight 447 a case study by Jamie O'Brien of the June 1, 2009, aviation tragedy, was published in the Spring 2019 issue of The CASE Journal.
The 24-page case study includes 10 pages of teaching notes, giving educators a guide for implementation of the material for their classes. O'Brien offers related readings, class-discussion questions, and analysis of the case and business-related issues and behaviors that shape the case.
O'Brien is an associate professor of business administration-management at St. Norbert and associate dean of SNC's Schneider School of Business & Economics. His primary areas of teaching are leading change, organizational behavior, strategic management and knowledge management.

July 1, 2019