Man on Fire
A new biography of our founding saint explores a man constant in his faith yet contradictory in his ways and confounding to history.

As saints go, Norbert of Xanten is a relatively obscure one in the United States. Better-known in Europe, there's no question about the worldwide impact of the order he established – a movement that soon will celebrate its 900th year, with 90 or more houses of the order around the world carrying on his values. Still, few American Catholics recognize his name. And, as is often the case for someone who lived nearly a millennium ago, much of Norbert's life is clouded in myths and hagiography.

Those familiar with Norbert know him as a legendary peacemaker, a defender of the Eucharist and a strong-willed church reformer. But other characteristics of Norbert have been difficult to decipher. A new book by President Emeritus Tom Kunkel, Man on Fire: The Life & Spirit of Norbert of Xanten, brings to life Norbert the man and shows that he, as most saints did, led a life that was emotional, conflicting and, frankly, a bit messy. In short, Norbert led a life that was altogether human.

"We have a culture of sainthood, for a good reason, that goes back to the beginning of the church, and it's very valuable to us," Kunkel says. "But it's also very wrongheaded and mystifying and shrouded in ignorance or mischaracterizations. These were people. These were people who had real problems and made real mistakes. … But what they all had in common was that, at some point, they figured it out."

The contradiction
Norbert's life can be summarized in a few distinct phases: He was first a somewhat self-indulgent member of Henry V's court, then a wandering preacher who gave away all his possessions to devote himself to the apostolic life, and then the archbishop of Magdeburg. Each phase of Norbert's life challenged the previous.

"One of Norbert's few constants … was contradiction," the book states. But that's what makes Norbert the human being so fascinating, Kunkel says. "The fact that he was a bundle of contradictions was very appealing for me. You just keep pulling back layer after layer after layer. With each separation, he just seemed more interesting."

Even Norbert's reputation as a peacemaker can be considered antithetical, as he often left controversy in his wake. Once considered to be a hedonistic young man, Norbert later devoted himself to the apostolic life. He then rebuked his fellow canons about their own self-indulgent ways – a move that led one young colleague to spit in Norbert's face.

"He was a man of action, for sure, and he was not afraid to speak truth to power," Kunkel says. "In fact, that's one of the reasons he was always kind of given trouble."

The impassioned
Any trouble Norbert was given also could be attributed to the ardent way in which he lived. Norbert was "an independent thinker with a stubborn streak," the book states.

From confronting his colleagues, to being so committed to his life as an itinerant preacher that his family feared for his health, to his defense of papal authority as archbishop, Norbert continually showed his conviction.

"One of the things that I definitely carry away is that, even when he was seeking, even when he was searching, even when he was acting, he was all in – all in," Kunkel says. "He didn't do anything halfway. He was passionate about what he did."

For evidence of Norbert's passion, one needn't look much further than the Norbertine order itself. Norbert set to establish his own religious community in the remote woods of Prémontré, France, in 1120. Just six years later, the order included eight active foundations and had hundreds of members.

"That [growth] doesn't happen without a great appeal and authenticity of message," Kunkel says. Nor does it happen without strong leadership skills.

The man for all times
In today's words, Kunkel says, Norbert would be called an entrepreneur, a world-class communicator and a powerbroker. Norbert displayed his savvy leadership abilities as he adapted and capitalized on new possibilities to expand the order.

"One of the reasons I was so taken with Norbert the person is that, even though he lived a millennium ago, he struck me as a very modern person or sensibility," Kunkel says.

Norbert's values and message help carry him into the modern age as well. The book states: "If Norbert was a wandering preacher today, it's not hard to imagine the instruction he would offer us: Put your faith into action. Commit yourself to helping others. Be a peacemaker in your life."

"Not many things in life last 900 years, and I don't think anything lasts like that unless what's at the core is real and true and valuable," Kunkel says. "And certainly, I think Norbert's values were all of those things. He was first and foremost a person of peace. And I think that if he were alive today, one of the things he would undoubtedly be doing would be trying to urge people to suppress their anger and their resentment and the pettiness, and surface their humanity and the Christian ideals of charity and help, and to just work really hard to get us so that we're past the acrimony. In the same way he was trying to help people in his time, keep them from killing one another, I think he would be working with us today to keep us from hating one another."
---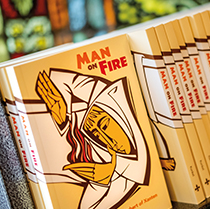 Making Sense of Norbert
It wasn't until he retired as president of St. Norbert College in 2017 that Tom Kunkel set to putting on paper the life of the saint for whom the college is named. But it was early in Kunkel's nine-year presidency that he and others recognized the need for a book that told Norbert's story in an easy, accessible way.

"The stuff that's been available hasn't been fun to read and really requires an effort," says Rosemary Sands (CNS). Much of Norbert's history is written in Latin, and translations can make distilling a picture of Norbert difficult. "It's stilted. … It's just hard language and it really doesn't make Norbert come alive," she says.

Kunkel hopes "Man on Fire" will remedy that and provide the necessary context for the Norbertine way of life. "We talk about Norbertine values and traditions all the time, but to really be able to go to the source and have the time and the resources, the opportunity, to get at who that was, was really a blessing for me," he says.

Sands will use the book in her Communio & the Norbertines Across the Centuries course.
---
Buying the Book
"Man on Fire: The Life & Spirit of Norbert of Xanten" was published by St. Norbert College Press in association with the Center for Norbertine Studies. The book is available on Amazon or from the SNC bookstore on campus and online.

July 1, 2019