Commitment to a Job Well Done
These retiring educators yield a combined 325 years of service to St. Norbert College. We applaud their decades of commitment to our student experience and academic reputation.

David Pankratz (Computer Science) began his 46-year career on the mathematics faculty. In the '80s he developed interdisciplinary majors in business and mathematics with the then-emerging field of computer science. In the '90s he proposed the creation of a computer science discipline and major. He and his students produced the first web server at the college. "Dave's work has always been student-focused," says David Bailey (Biology), divisional dean for natural sciences. "His love of teaching inspires and cultivates a love of lifelong learning as we are called to do in the liberal arts tradition."

During his 42 years of teaching at St. Norbert, Wayne Patterson (History) was sought after for courses that ranged from international relations to Asian and Asian American history. Patterson published prolifically in this field, producing more than a dozen monographs. As his colleague Bob Kramer (History) notes: "Throughout his many years of undergraduate teaching, Wayne never lost sight of his commitment to scholarship. His passion for uncovering the history of Southeast Asia was evidenced by his frequent summer trips to Korea, his regular sabbaticals there to conduct research and teach, and his impressive record of publications. He set a high bar as a scholar, and in doing so, enhanced the reputation of the college." In retirement, Patterson is serving as a visiting professor in Hong Kong and publicizing his newest book, "William Nelson Lovatt in Late Qing China."

Larry Thorsen (Mathematics) brought innovative pedagogies for 41 years. According to Bailey, Thorsen was vital to curricular development at the college. He served as director of the Honors Program for more than two decades. Thorsen remains a member of Amnesty International and the American Civil Liberties Union, and brought these interests to students as advisor of the SNC Amnesty International Group. "His service to St. Norbert and our students has been outstanding," Bailey says. "His experience and interests outside the classroom served the development of our students in a mission-focused way."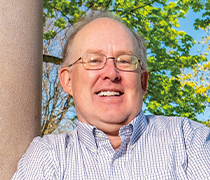 The 35-year legacy of Stuart Korshavn (Psychology) is paved with hallmarks of good teaching and the use of assessment measures to evaluate learning. "He served commendably as committee member, leader, role model and mentor for his colleagues in the psychology discipline and throughout the college," says Michelle Shoenleber (Psychology).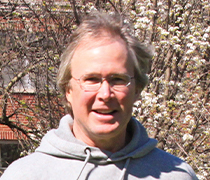 With 35 years of leadership roles, awards, accolades and published works to his name, the contributions and impact of James Neuliep (Communication and Media Studies) will not soon be forgotten. "As an internationally respected expert in the field of communication ... [he's] completing a career as illustrious as any St. Norbert faculty member could ever hope to achieve," says John Dose (Psychology), divisional dean for social sciences. His best-selling textbook "serves as evidence of his far-reaching influence on the entire field."

Retiring after 32 years, Nick Humphrey (Modern Languages & Literatures) was a one-person German department. As Fulbright advisor and Tau Omega Phi Fraternity advisor, "He garners praise from students for his enthusiasm, creativity and the open atmosphere he promotes in his classroom," says Paul Johnson (Philosophy).

Cheryl Kalny (History) is remembered by 30 years of students for teaching the immensely popular Vietnam in the Western Imagination course and a number of courses in U.S. history. Kalny published and presented on women's rights in the United States, and First Ladies and their public images, among other topics, and served as editor of the Greenwood Encyclopedia of Women's Issues Worldwide: North America and the Caribbean. Kalny shared her love of history with generations of students, says Vicky Tashjian (History). "She introduced hundreds of students born long after its conclusion to the history of the Vietnam War. Meetings with veterans were a highlight of this course. Cheryl's passion for women's history likewise sparked the interest and curiosity of many. Cheryl, who considers herself an activist scholar, took this passion into the local community and local history, researching the life of Elizabeth Baird, who held numerous important public roles in Green Bay across the nineteenth century." Since retiring, Kalny has been spending time with her grandson, Remi, and getting involved in politics.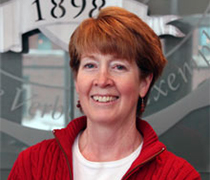 For 24 years Laura Neary (English) demonstrated her commitment to helping students elevate their voices through writing. She was director of the Writing Center, where she developed an effective training regimen for and mentored student tutors, reorganized administration and collaborated with faculty and staff. "Many benefited from the important skills she taught and the support she offered," says Johnson.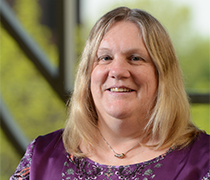 Kathy Molnar (Business Administration) was instrumental in teaching technology and computing to a generation of Green Knights. Throughout 23 years she served as director of computer services and taught several courses. "You are sorely missed," says Daniel Heiser, dean of the Donald J. Schneider School of Business & Economics, repeating the sentiment in binary code for his digitally savvy colleague: "01011001 01101111 01110101 00100000 01100001 01110010 01100101 00100000 01110011 01101111 01110010 01100101 01101100 01111001 00100000 01101101 01101001 01110011 01110011 01100101 01100100 00001101 00001010."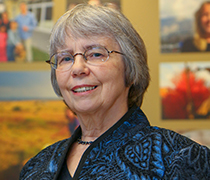 Susan Landt (Education) served as the literacy course cornerstone for pre-service teachers for 17 years. According to Dose, students "admire her ability to model effective teaching practices – techniques they emulate in their own classrooms." An active researcher, committee member and collegial citizen, Landt authored publications on multicultural literature.
 
Jan. 15, 2021